Launched in 2018 RavenCoin became a newcomer in the crypto universe, but quickly gained popularity among miners. Let's find out why.
What is Ravencoin Mining?
Ravencoin is a free open-code platform operating on 3 basic principles: confidentiality, security of users and transparency of mining. It is ranked 96th on the market and worth $0.08554 (at the time of writing).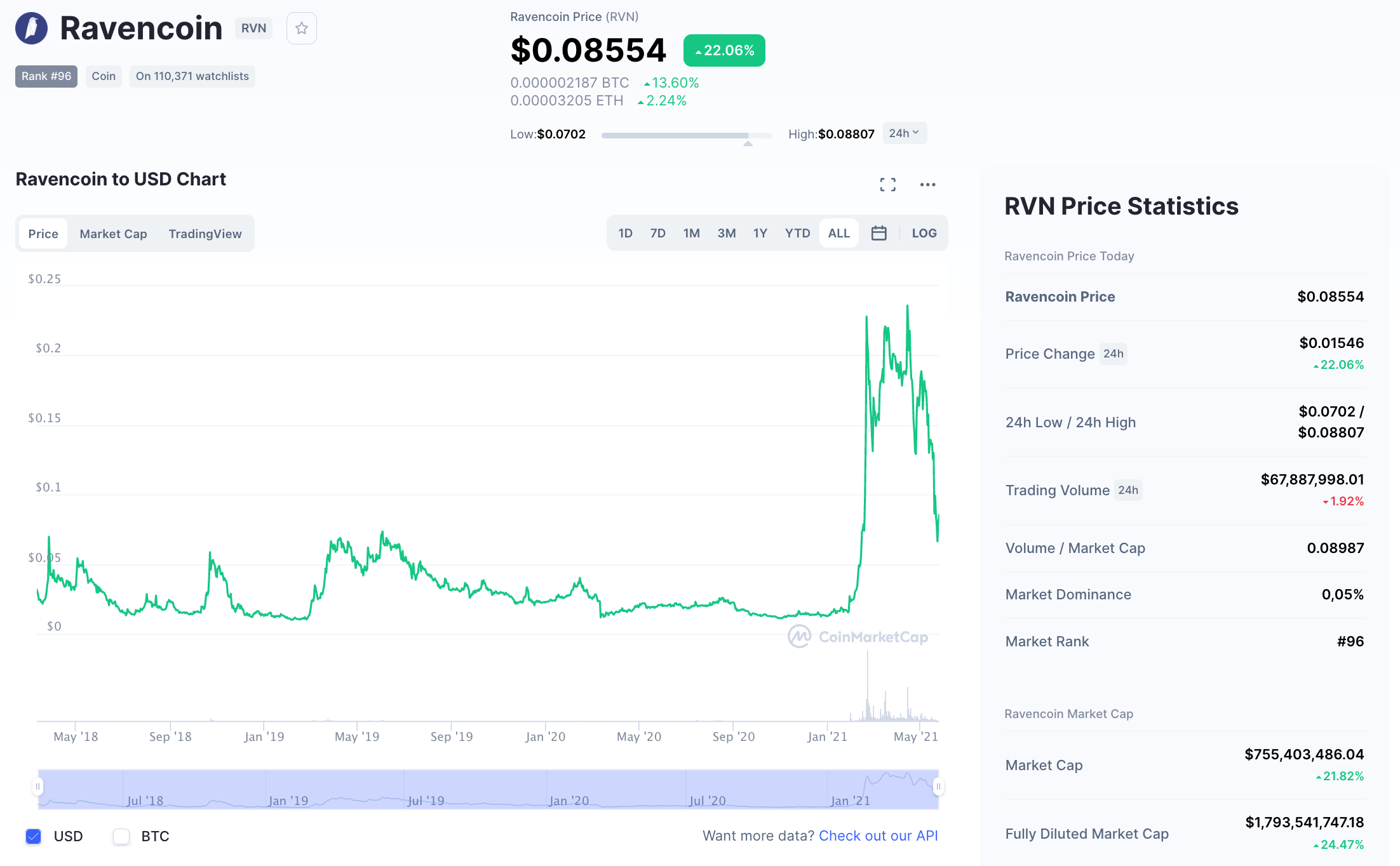 ---
Being a hard fork of Bitcoin RVN resembles this world crypto but still has the distinctive features, which make it a desirable coin to mine.
High speed of mining. The speed of transaction processing is 10 times higher than his majesty Bitcoin. A new block forms every 1 minutes (10 minutes for BTC) and each of them has 5,000 RVN reward.
Enhanced security. To exchange messages within the network miners may use integrated Messenger where all mails are strictly confidential and financial transactions are anonymous.
Full decentralization. Due to an open code character anyone wishing can bring in some modifications to the crypto network and receive different bonuses.
Emission level. A total emission of RVN equals 21 billion while its forerunner is limited with 21 million. Devs do their best to control that new tokens enter the market in a certain extent with the purpose to prevent a sharp decline in the value of RVN.
KawPow algo. Derived from ProgPow KawPow is the third algo (after X16R and X16Rv2) implemented. KawPow is optimized for 32 bit platforms and extended for a maximum volume of hardware registers.
Anti-ASIC dominating. The main goal of the second fork was to spare the net from ASICs and get GPUs miners a chance to mine coins. Earlier about 98% of all powers was generated by ASICs and FPGA, but after the fork it may attract much more miners to the platform.
Pool mining. Almost straight away solo-mining of RVN became unpopular and opened the way to pools. We recommend to take advantage of K1Pool which is a favorable service for every miner entered the race for raven. With only 1% fee it offers 9.722 TH/s of network hash rate and payouts are paid every 20 minutes. The essential privilege is a dual mining of Zilliqa + Ravencoin which is not practiced anywhere else except K1Pool. Here you can also know difficulty of mining RavenCoin.
---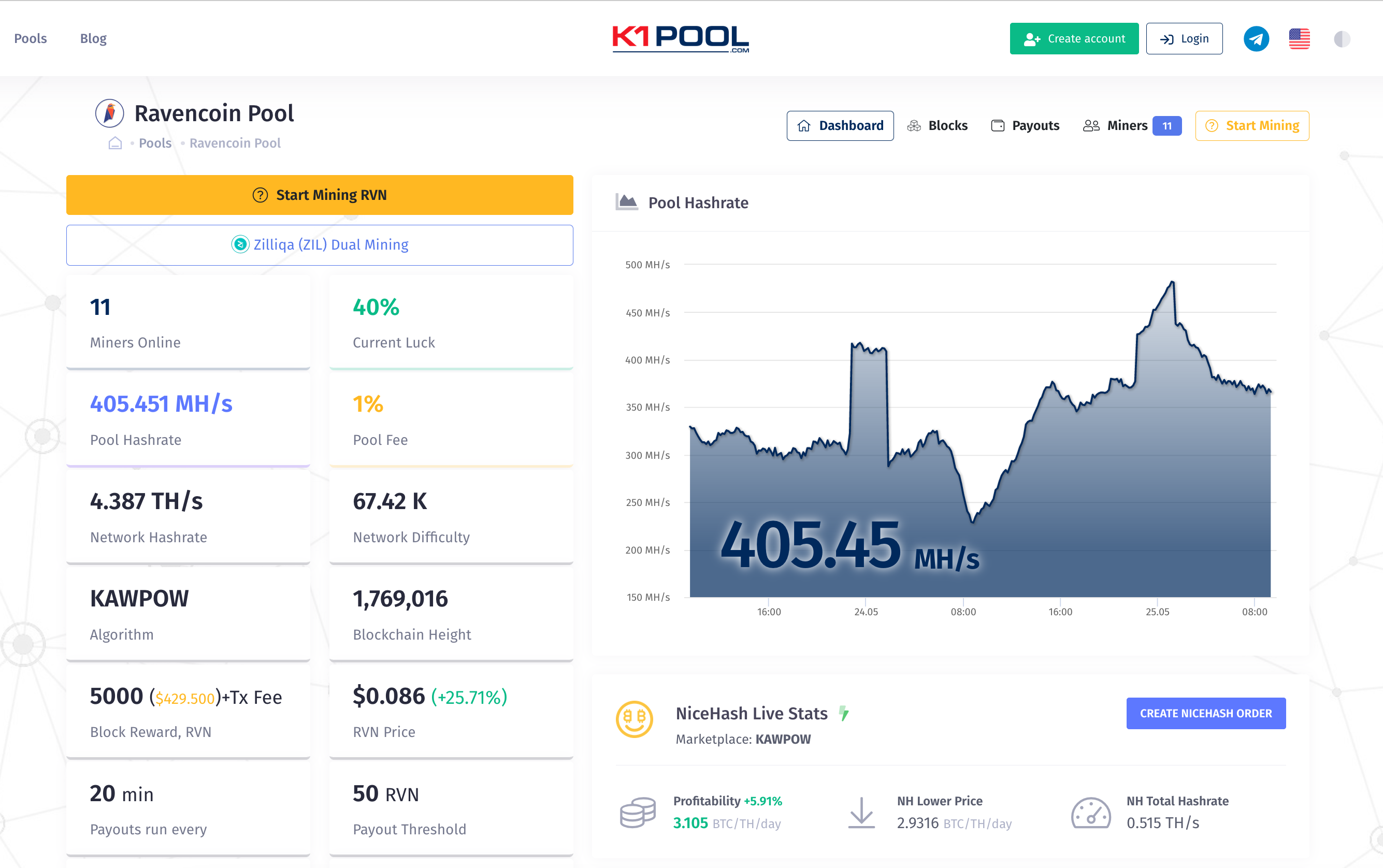 ---
In summing up, if you hesitate whether to join RVN community or not, the answer is pretty clear. Yes. Experienced team of creators constantly develops the project, corrects the weaknesses and integrates technical innovations to maintain the stability and efficiency of the platform. Support of the investors and the interest on the part of global crypto markets are the best hint of promising future for GPU hunting.
How to Mine Ravencoin?
While earlier RVN mining was accessible only for "green cards", now AMD hunters also have a chance to strike it rich.
Wallet
Coins can be stored on an official wallet accessible in a desktop as well as a mobile version. One quarter of crypto market transactions volume are conducted on Binance which also supports RVN and its exchange for American dollars. After registration choose RavenCoin in "a Wallet" field and copy the address in the right place.
You may also use a short list of wallets mentioned on the official website:
Trustwallet
Edge
Guarda
Flare
Miner
An important step in mining of any currency is choosing the best mining program and its correct adjusting. There are several miners supporting the KawPow algo:
Kawpowminer – for both AMD and nVidia GPUs
T-Rex – for nVidia GPUs
GMiner – for nVidia GPUs
NBMiner – both for AMD and nVidia GPUs
TeamRedMiner – for AMD GPUs
Don't forget to take into account the commission rate of miners which is charged by devs. For example, T-Rex fee is only 1%, while NBMiner "asks" 2%. The first RVN miner, Kawpowminer, works absolutely free.
Settings
Download miners only from trusted sources, for example, Github. Zip out the bat file from the archive, edit the data and change the line YOUR_ADDRESS according to your wallet.
Kawpowminer – kawpowminer -P stratum+tcp://YOUR_ADDRESS.RIG_NAME@eu.rvn.k1pool.com:7861
TeamRedMiner – teamredminer -a kawpow -o stratum+tcp://eu.rvn.k1pool.com:7861 -u YOUR_ADDRESS.RIG_NAME
Gminer – miner --algo kawpow --server eu.rvn.k1pool.com:7861 --user YOUR_ADDRESS.RIG_NAME
T-Rex – t-rex -a kawpow -o stratum+tcp://eu.rvn.k1pool.com:7861 -u YOUR_ADDRESS.RIG_NAME -p x
NBMiner – nbminer -a kawpow -o stratum+tcp://eu.rvn.k1pool.com:7861 -u YOUR_ADDRESS.RIG_NAME
After making all the settings you may start to mine RVN.
Despite Raven is a young crypto enough, its mining has many possibilities. It has successfully exploited the market and enjoys all-round support by developers and investors. Now it shows a real profitability especially for less powerful rigs. In any case, choosing to mine RavenCoin you choose stability and efficiency.
Don't forget to join us on Telegram to keep up with latest news.